This is a spoiler-free review, if that's not for you why not check out one of my other posts or follow me on twitter @AthemovieZ
La Casa de Papel, otherwise known as Money Heist was revealed to be Netflix's most popular non-English language series, and so upon hearing this, I knew I had to check it out. Initially La Casa de Papel was a limited series which aired on a Spanish network, before NETFLIX attained the rights of the show, re-cut the first season into two parts and renamed it 'Money Heist'. After the first two parts found success on NETFLIX, they quickly ordered a new season, and the fourth part of Money Heist dropped this Friday [3rd April], and was easily one of 2020's most eagerly anticipated TV shows. So, why? What makes Money Heist so good? I asked myself the same question, before I sat down to binge the first three parts, how good could this be? Well, as they would say in the show 'es increible'. Based on a heist, it delivers on every possible level, it innovates the heist genre, constantly keeping the audiences on edge, bringing in characters that are flawed and have so much depth and delivers heart-wrenching blows to the audience.
As I said at the start, I won't spoil anything from the new season, but I feel it appropriate to recap Part 3. After successful completing the biggest heist ever, The Professor reunites the gang as Rio has been captured. In order to free Rio, The Professor proposes a Bank of Spain heist, however this heist is wildly different to that of the Royal Mint. For starters, The Professor had years to plan how to rob the Royal Mint, and this time he only had a few months, because of this it leads him into situations he can't get out off and the audience are informed whilst the premise of a heist may seem the same, the outcome will not be. Even though The Professor finds himself in different situations, there is one similarity between the heists, the heist of the Royal Mint was his fathers idea, whilst the Bank of Spain's heist is his brothers idea. Part 4 picks up where Part 3 left off, The Professor is lost in every possible way, as he thinks the police have killed Raquel, whilst Nairobi is fighting for her life after she was shot as a result of Sierra's trick, the rest of the gang must band together when it seems everything is lost.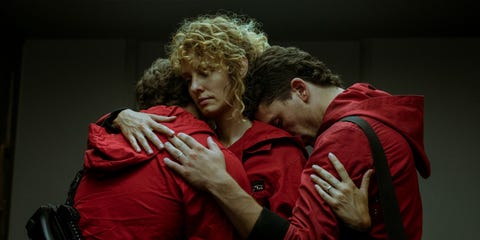 Before I get into the review of the season, there is one thing to keep in mind. The first season of Money Heist (which is Part 1 and 2) is incredible and it rounded everything off perfectly. So, the question for Part 3 and 4, is did we need a follow up to begin with? To be honest, I'm not sure I can answer that, what I will say is that one of my biggest fears was that the show wouldn't have enough story to last a season, to simply show another heist take place would become very robotic and rudimentary for audiences, but by putting the characters in the positions they are, we explore so much and even more importantly, there is still so much more to explore! I, for one, am extremely happy we got a fourth part, and I am demanding we get a fifth! NETFLIX gave the show a bigger budget, and it allowed them to shot some truly beautiful locations that transpired beautifully in the third season, and that continues in the new season, with a mob scene being one of my favourite. I'm sure most of the criticism about this season will be it's pacing compared to that of the first, and to a certain extent I completely understand why, but my problem with the season is what was once a fun heist show, determined to ridicule the system seems to have turned into a massive war against the system, and whilst that isn't a bad thing, it just represents the creators of the show knowing they couldn't just create another heist and had to do something different, and decided to do that by proposing a war against the system.
Part 4 improves from the third and if you've enjoyed Money Heist so far, this season will not disappoint, and arguably it cannot disappoint. It has everything I had expected from it, and we got to explore so much more. In the third part, the new characters weren't explored enough whilst simultaneously giving the key cast members of the first season less limelight, as I felt longing for more of the Professor and Tokyo. The new season corrects that, and thrusts them into the spotlight, as well as exploring the added gang members whose name you can't even remember. What each episode in part four manages to do well, is how each episode links together through a theme, it is used to interlink the past with Berlin (which shows just how important he still is to the show), the very first heist and the present, and it all is linked through the Professor and the problems he is facing, one episode that does stand out is '5 minutes earlier' as everything reaches a boiling point and it a fantastic watch. Alex Pena (the creator) still keeps the show thrilling, delivering action-packed, dramatic and even sometimes horror-esque scenes. As well as, keeping everything that was essential to the core intact, as we get great emotionally charged, heart-breaking character-orientated scenes, broken by comedy which remind you just why you love these characters so much, and still keeps characters we've lost (like Berlin) in the show to remind you just how important they once were. Berlin is a key example of this, everytime I saw him on screen, I felt guilty for not appreciating him more as his presence is vital to the show and Alex Pena manages to keep him in even though he is dead, and does so in a way which doesn't feel like a cheat. But for me, the reason this show is so phenomenal is because, Alex Pena seems to have an answer for everything. Imagine, there I am, eyes glued to the screen, determined to pull apart this 'impossible plan', almost as quickly as I have discovered a flaw, The Professor explains why that won't work. And that is why, this show works so well, and The Professor is such a great character. Furthermore, having him work in a scenario he is not used to whilst giving him a backstory, and a love interest is the best example of how to successfully add character depth to a character that was already perfect!
It would be amiss, to not mention the incredible performances that are delivered in the show. As per, Álvaro Morte is amazing as the Professor, as (like I explained) we are on this journey with The Professor and we learn so much more about him and come to sympathise with him, and he is incredible as we feel his pain whilst understanding and willing him not to lose his cool due to his importance. Úrsula Corberó as Tokyo is given more to do, and constantly reminds audiences this show is still hers, as she narrates us through the best and the worst moments. Other members of the gang are amazing, Miguel Herrán as Rio is amazing as we learn more about his pain and suffering, Jaime Lorente as Denver too as we feel his characters pain and loss after we witnessed the loss of his father. Darko Peric as Helsinki and Alba Flores as Nairobi are exactly what I expected, becoming my favourite characters from the show. Rodrigo de la Serna as Palermo, Luka Peros as Marseille and Hovik Keuchkerian as Bogotá are the best new additions to the gang as they provide a pathway to The Professor's past and allow audiences to learn more about him. So to, Najwa Nimri who is great as Sierra, even though most of the time I am hoping she loses. I also really enjoyed Fernando Cayo as Colonel Tamayo, and just found him quite funny sometimes! Almost like a baby, who's candy has been taken away so all he can do is throw his hands in the air and cry. But, the true MVP is Esther Acebo as Stockholm who is given something to do, and steps up to the plate and does it. The character development for her was needed and her performance also mustn't go unnoticed.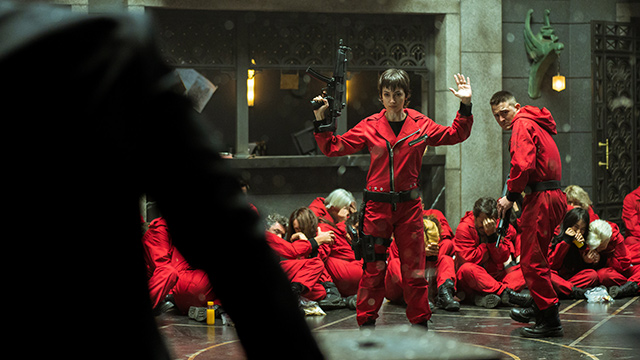 Whilst I really liked Part 3, I feel it to be important to say that although the gang are taking on an impossible heist, the show still needed to be grounded in reality. And, an easy way to do so, is with a death, and so on the cliffhanger we are left on at the end of Part 3 (which I will not give away) was so vital! And Part 4 takes those risks, and further plunges the show into reality, after all, these people are not superheroes, they are human. On the other hand, a problem I had with this season, goes by the name of Arturo, damn! I hate this man, but I really enjoyed the idea that there is no real reason to hate him. He is just doing what (if the heist was real) many would consider honourable, almost heroic. And, that is the argument this show always makes, are you with or against the gang, whether you like it or not, they are keeping people hostage, so we should be against them. And, yet we are not! So, whilst in the first three parts Arturo is a character with a lot of depth, part 4 takes a different approach, and one that removes that argument that I think is fundamental to the series.
Thank you for reading it, why not check out some of my other work and drop me a follow to see my my new stuff
Adam Zenasni