After last week episode gave us a glimpse behind the curtain as to what was really happening with this series, episode 4 follows it up by focusing on characters outside of Westview, how Monica Rambeau ended up in Westview and delivered some world-building through the exploration of S.W.O.R.D
Even though I felt episode 3 was the best the show had released to date, I was left a little frustrated in how much information we (the audience) – were being given, and questioned how long we would have to wait until we started to 'get somewhere'. Well….the wait is over the very next episode, and if I knew an episode of that quality was on its way, I would've happily waited another three episodes.
"We Interrupt This Program" is not only the best episode Wandavision has delivered yet, but (as a fan of the MCU) contains some elements I wished I could see but never thought I would. The re-introduction of Darcy and Agent Woo, the appearance of the real Vision, and the return of Monica Rambeau were all on my wishlist of MCU moments I would've liked to have seen.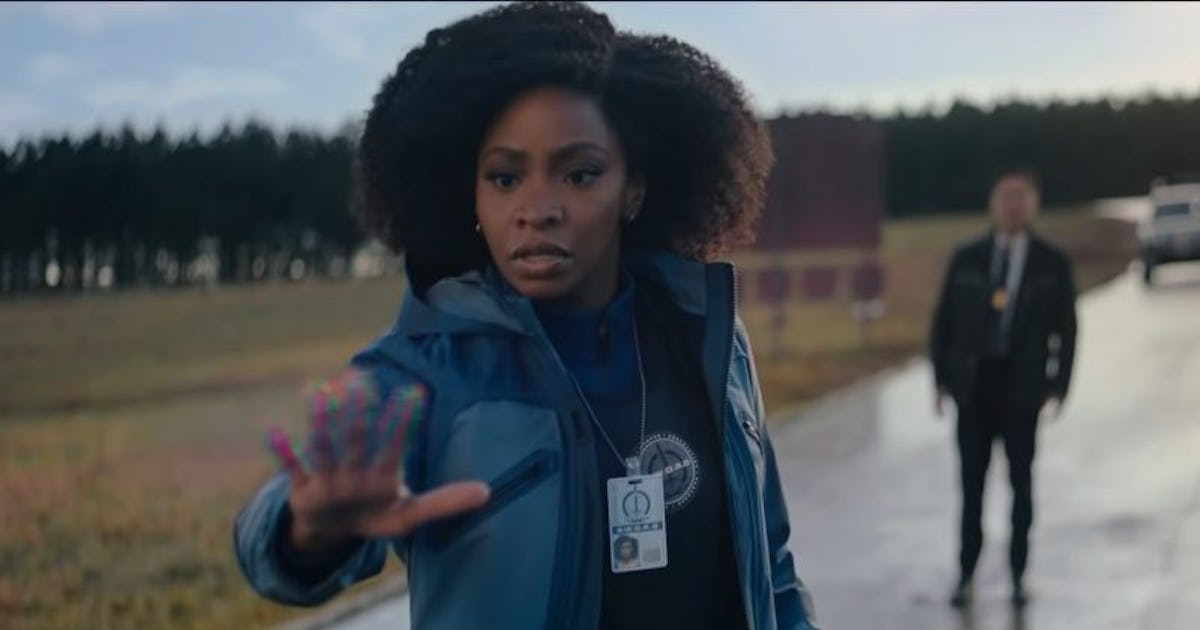 And (whilst I was still enjoying Wandavision) within, thirty minutes – my thoughts on Wandavision completely changed – just like that; any doubt I had (about the progression of the story only happening in the last two or three episodes) has gone. I am back in.
One thing you'll know if you read my episode reviews and I will stay constant with. Is, I love the concept of the show, I said it last week and I'll say it again – it is incredible. It's little details, like the name of this episode that really impress me, with the episode being Agent Woo 'interrupting the program we are watching' and it happens just as the show is half way through it's season!
One of the things I asked for after viewing the first two episodes was more of Monica Rambeau, and my God do we get it. Whilst I know she was introduced in Captain Marvel, I have tried not to learn too much about her because I want everything to be introduced to me fresh, like S.W.O.R.D, etc.
And Teyonah Parris is amazing as she delivers one of (what will be) my favourite scenes of all time in the MCU. Finally letting me see how people came back after the blip, and even though it's an event I know happened, the way WandaVision delivers it is perfect. Choosing the beginning of the episode, so you think she's back in Westview, only to pull the rug out from under you. Wow!
What's even more amazing, is that the two characters that carried the first three episodes, and the only reason you are watching the series are hardly in the episode, and yet – not once does their presence feel missed. Randall Park delivers an amazing performance, in what I hope will be the first of many appearances that see him as a Phase 4 Agent Coulson. Kat Dennings is back as Darcy Lewis, a character I have been waiting to see more of, and I hope she has more to do than just deliver science mumbo jumbo.
But, again. Dennings delivers the comedy of the episode alongside Park, two actors who came to popularity through sitcoms themselves, and even though the episode is not sitcom centered, two characters that get a lot of the screen time are from comedic backgrounds.
Even though Wanda is hardly in the episode, the scenes she does have are so powerful, and shows why she is the star of the show. Her scene with Vision is incredible, and the camera-work to pull off that reveal is extraordinary.
Wow, amazing. I'll happily take more sitcom episodes if I get more moments like that! Graci!!
AZ